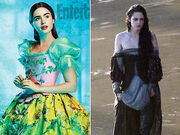 Granted, there's a big difference between polished publicity stills and the kind the paps grab while you're doing a tough scene that requires a fully clothed dunk in the chilly waters of Wales. But we're going to compare these two anyway: Entertainment Weekly's exclusive pics of Lily Collins, Julia Roberts, Army Hammer, Nathan Lane and seven very happy dwarfs versus the recent shots of Kristen Stewart and Chris Hemsworth on the set of Snow White and the Huntsman. Here are three things we've learned:
1.) With the gritty, wet look of those KStew pics and the high-color, not-a-hair-out-of-place surreal glamour of the cast of Tarsem Singh's still untitled movie, it doesn't seem like we'll be confusing these movies with each other. We see Lily fighting Nathan Lane, but her battle outfit isn't anywhere near as roughed up as Kristen's. Could be her fight is more political than bloody.
2.) Julia Roberts' Evil Queen's penchant for high fashion means she needs a mighty entourage — Singh told EW it took 14 people to carry her wedding dress. Judging by the publicity photos of "Huntsman" villainess Charlize Theron, she's a sleek, streamlined baddy. But in both cases li'l Snow's got her hands full with some Oscar-winning power.
3.) We'd like to fight by the side of (ahem, NOT be rescued by) either movie's heroes. Lily's got the clean-shaven prince Armie Hammer — who looks vulnerable (in a sweet, "we want to protect him" way) as he wields a sword in her honor. But even if it looks like Chris Hemsworth's huntsman hasn't had a shower in a while, we'll just have to figure out how to make him take a dip in the ocean too.
What do you think ????
Ad blocker interference detected!
Wikia is a free-to-use site that makes money from advertising. We have a modified experience for viewers using ad blockers

Wikia is not accessible if you've made further modifications. Remove the custom ad blocker rule(s) and the page will load as expected.