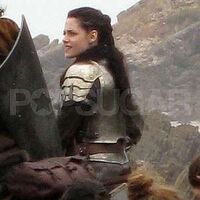 Kristen Stewart of Twilight goes dark and heavy with a remake of the classic fairy tale: Snow White. These new on-set photos from PopSugar show Kristen Stewart as a modern and untraditional Snow White who's ready for battle against the evil queen, portrayed by Charlize Theron.
Will you be watching this fairy tale with a twist action film? Is Kristen Stewart convincing as a heroic Snow White? Weigh in below!
Gallery
Ad blocker interference detected!
Wikia is a free-to-use site that makes money from advertising. We have a modified experience for viewers using ad blockers

Wikia is not accessible if you've made further modifications. Remove the custom ad blocker rule(s) and the page will load as expected.