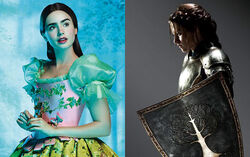 Which Snow White film will be the fairest of them all...in 2012? Snow White and the Huntsman and the still-untitled Snow White Project are both coming out 2012 within months of each other. Although both are modern adaptations, the two Snow White movies have completely different vibes.
Snow White and the Huntsman is a darker, gritter piece while the untitled Snow White follows the more traditional fairy-tale theme, although still with plenty of action.
Most interestingly, both movies have a Twilight connection- Kristen Stewart is the Snow White of Snow White and the Huntsman while Lily Collins, Taylor Lautner's current girlfriend, plays the other Snow White. Interesting right?
Which Snow White appeals more to you? Or will you be watching both?
Gallery
Poll
Which Snow White film do you prefer?
Source
Ad blocker interference detected!
Wikia is a free-to-use site that makes money from advertising. We have a modified experience for viewers using ad blockers

Wikia is not accessible if you've made further modifications. Remove the custom ad blocker rule(s) and the page will load as expected.