Here is an interview with Charlize from the LA Times;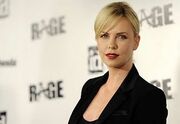 "Charlize Theron is on a two-week break from her evil queen duties in "Snow White and the Huntsman," and is enjoying her time in glamorous, movie-star fashion -- playing video games.
"I'm a bit of a gamer," she told us at Friday night's launch party for the new game Rage, a first-person shooter from Bethesda Softworks. "Not too crazy, but I've been known to game."
Theron served as host for the launch, which staged a full takeover of Chinatown's historic Gin Ling Lane -- vendors, restaurants and booze joints all -- and featured a performance from the Black Keys.
Turning heads in a black tuxedo jacket and tiny cocktail dress, Theron paused to reflect on her current gig as Kristen Stewart's nemesis in the dark retelling of the fairy tale.
"I haven't gotten to work with [Kristen] yet ... it's mostly been me and my kingdom, alone, while everyone is out looking for her," she said. Production will resume in two weeks in London, where the pair will finally go head-to-head.
"We've had one day together, she did some off-camera for me and we got to hang out a little bit. She's super cool and she's going to be amazing in this," Theron said.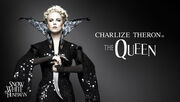 The Oscar winner has been making some interesting choices of late, departing from leading lady fare and catsuit-sporting action leads. In addition to her villainous turn in "Snow White," she'll portray an alcoholic writer of teen books in Jason Reitman's "Young Adult."
Penned by Diablo Cody and set for a holiday release, there's talk that Charlize could be an awards contender come January.
"More than anything, I wanted to work with Jason Reitman and I thought the material was really interesting. I try not to think about that stuff too much and just respond organically," she said."
Ad blocker interference detected!
Wikia is a free-to-use site that makes money from advertising. We have a modified experience for viewers using ad blockers

Wikia is not accessible if you've made further modifications. Remove the custom ad blocker rule(s) and the page will load as expected.