Kristen Stewart
confessed in an interview for the November issue of Glamour magazine that she really wants to try her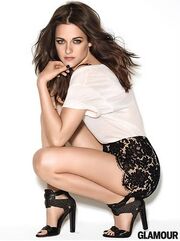 hand in the director's chair. Apparently the actress has been bitten by the directing bug (that seems to be going around among many Hollywood stars) because she really wants this to happen. When asked about her interest in directing, Stewart admitted,
"Yeah, really, really badly. Me and Dakota [Fanning] were having this conversation the other day actually, and she also wants to do it really bad."
Ad blocker interference detected!
Wikia is a free-to-use site that makes money from advertising. We have a modified experience for viewers using ad blockers

Wikia is not accessible if you've made further modifications. Remove the custom ad blocker rule(s) and the page will load as expected.