William is the husband of Snow White and the current King of Tabor. He is the son of Duke Hammond. He appears in the movie Snow White and the Huntsman and its sequel The Huntsman: Winter's War.
Childhood with Snow White
Edit
When William was a child, he became great friends with Snow White. But after Snow White's mother's death, King Magnus married a new queen, Ravenna. During Ravenna's new-found reign over the castle, William fled with his father the escape route to the outlying lands populated by trolls, fairy folk and dwarfs to escape back to Tabor. They have spent years amassing an army to take back Tabor from the evil woman who has upset the natural order of the world.
Snow White and the Huntsman
Edit
When William learns that his childhood love and friend is still alive, the expert marksman vows to find Snow White and to never make the mistake of leaving her again. He joins Finn's group as a bowman to find her, and protects Snow White from them when finding her. Ravenna briefly impersonates him, and attempts to kill Snow White. (And briefly, succeeds). He helps her and Eric to get to his father's castle. After Snow White's resurrection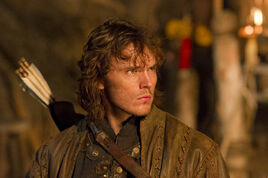 , William leads an army with Eric the Huntsman and fights with them in the battle against Ravenna, which is victorious.
The Huntsman: Winter's War
Edit
After the battle, he marries Snow White and is crowned King of Tabor. Some time after Ravenna's death, he comes across Eric and informs him that the Magic Mirror was taken while en route to a place known as "Sanctuary". Eric reluctantly sets off with Snow White's dwarf ally Nion and his half-brother Gryff to find the Magic Mirror, unaware that Freya has been secretly observing their conversation through a mask that projects her consciousness in the form of a Snowy owl.